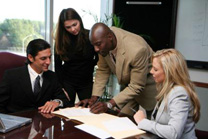 Careers
You are here :
Home
>> Careers
The Vlinker - Expertise Enhancement
Vlink has been adhering to the tenet of "Continuous Learning", and has built up a complete internal training system. A matrix-type training mode with expertise longitudinally and management skills and knowledge improvement horizontally based on the job requirements and development paths for the employee of different positions and levels has been constructed.
Expertise
Career Development Path
Vlink adopts H-shaped career path design, and sets up a career development system including 5 major career series, 15 career grades and 39 career levels. The career series may be changed without limitation to job rotation and promotion.
For more information: info@vlink-technik.com